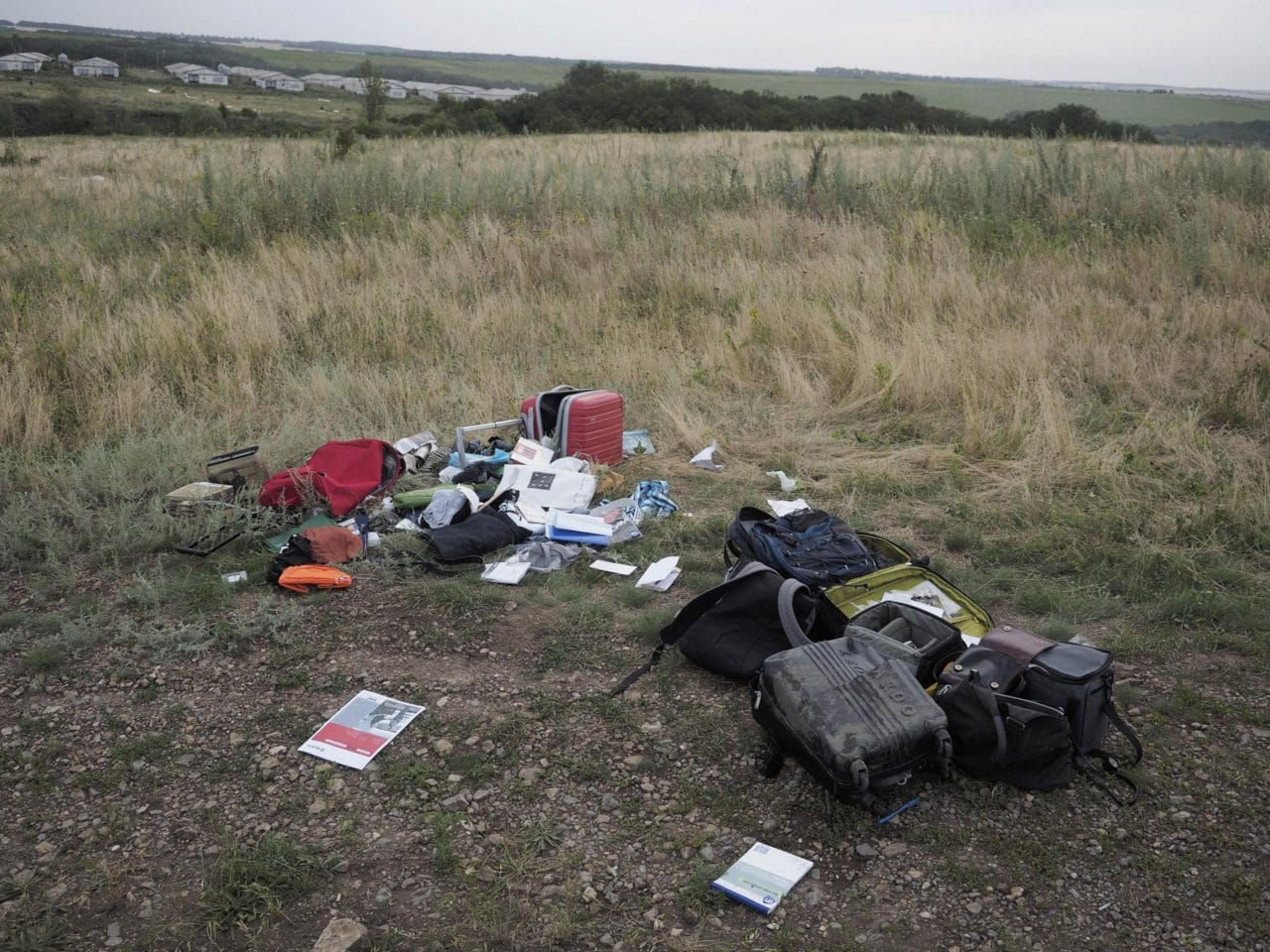 World Press Photo picks humanity's worst … again
Another year, another World Press Photo winner, and given so many called 2016 one of the worst years they've experienced, it was with some trepidation that I sunk myself into analysing this year's entries.
The winner was somewhat predictable — Burhan Ozbilici's shot of a defiant assassin, Mevlüt Mert Altıntaş, in the moments after he murdered murdered Andrey Karlov, the Russian ambassador to Turkey, at the opening of an art exhibition. It was the shot seen around the world, and there can be few people who are unfamiliar with it.
It was a narrow victor this year. According to TIME, the jury that voted on the winners in Amsterdam had a hard time with this one, passing it by a narrow 5/4 margin. I can understand why Ozbilici's shot was awarded the big prize. Personally, I thought the photographer showed incredible bravery to keep clicking, particularly as he admitted he wasn't even technically working but on his way home.
But for me, I'm always a little disappointed such horror is constantly awarded by World Press Photo. Stronger work for me is that which seeks to change people's view for the better, educate and promote positive social change, and that's never been more important than now. It's not always easy given some heavy content matter around the world many photojournalists are drawn to chase, but there are undoubtedly more good news stories to tell around the world than there are bad, and goodness, how we need them.
Some of the most iconic images you've ever seen have won the Photo Of The Year award. Eddie Adams's 1968 winning shot of South Vietnam National Police Chief Nguyen Ngoc Loan executing suspected Viet Cong member Nguyen Van Lem, for example. Or Nick Ut's 1973 'Napalm Girl' winner of Phan Thi Kim Phuc, capturing her fleeing devastating flames in the same war.
Whether Ozbilici's shot stands the test of time as those have remains to be seen, but for me it's sad that the World Press Photo jury has always appeared fixated on the worst in humanity, and not the best. There have been ample opportunities to flip this thinking, and pick something that inspires us to be better. Maybe it's reverse psychology on their part, but thus far the evidence of our increasingly poor behaviour towards each other suggests otherwise.
Don't get me wrong; I have the utmost respect for the photographers and their work, much of which is outstanding, but perhaps we should be chasing more positive stories in an attempt to inspire more positive actions from the human race. Bu anyway, here is a quick assessment of some of my favourites in each of the categories from this year's World Press Photo awards.
SPOT NEWS
Burhan Ozbilici's winning shot we've already discussed, but for me, one of the best in the series showed the other people also present at the event. Each has their own expression, from sheer terror in the woman on the left to an almost ambivalent 'when will this all end' look on the face of the guy on the far right. It reminded me of an old religious painting.
The other standout for me in the Spot News category was Jamal Taraqai's horrifying image of a bombing in Pakistan, where 70 people were killed when a bomb exploded outside a civil hospital. "A crowd of lawyers and journalists had gathered to mourn Bilal Anwar Kasi, a senior lawyer who had been assassinated hours earlier," World Press Photo states. All too often, such events go unreported in the West, yet the fact is many more people are being killed as a result of terrorism in Muslim nations than are in the United States or any of its allies. The devastation is more than evident here, from the blood on survivors and the dead to the pockmarks in the surrounding walls. It's incredible to me that anyone can harbour so much hatred as to cause such a scene. Taraqai was awarded first prize in the Spot News Singles category, while Ozbilici won for Stories as well as the overall Photo Of The Year prize.
One of the big stories of the past few years has been the migrant crisis across the Mediterranean. My next standout in Spot News covers this, and was documented by independent photojournalist Mathieu Wilcocks, who has spent time on rescue ships in the region. His entire series is excellent, but the most striking to my eyes is this one, as refugees reach for a life-jacket being thrown from a Libyan fishing shipafter discovering the inflatable. Wilcocks won third prize for Spot News Stories.
GENERAL NEWS
Laurent van der Stockt's image of a terrified girl in Mosul, Iraq, perhaps stuck with me more than any other in this year's selection. The photographer was with the Iraqi Special Operations Forces (Golden Division) as it entered Mosul in an offensive to rid the area of Islamic State, or Daesh. What the families were subjected to under the occupation of the terror group is unimaginable, and arguably more so for females. This young girl's expression says it all, juxtaposed against dumbfounded shock on her brother's face and perhaps relief on what we can see of her mother's. A quite brilliant capture, and rightly awarded first prize in the General News category. I'd argue it should have won the whole contest.
Equally striking in the General News category is Daniel Berehulak's first-prize-winning series from the Philippines, where President Rodrigo Duterte's war on drugs has been taking a huge number of lives from the streets, either through killings or by filling already overcrowded prisons. Berehulak, a Sydney native, has captured all aspects of it wonderfully well. Every shot is great in its own way, but this one for me is the best. It's like a movie set, an irony given what he is covering is real life.
LONG TERM PROJECTS
I absolutely adored Hossein Fatemi's series An Iranian Journey. It will open you eyes to a few things going on in Iran right now, and aims to help us better understand a country too often demonised by those knowing little to nothing about it. Fatemi is an Iranian American, and told hisstory beautifully. While I've only put one image here, I highly recommend checking it out in its entirety. It won second prize in the category.
NATURE
I'm not often taken with the Nature category at World Press Photo, but how could you look past this incredible Ami Vitale capture of a giant panda in China? It's easily the best image from her second-prize Stories series, which looks at the panda as a conservation icon, and documents the effort being put towards its survival in its native China. The giant panda has recently been removed from the world endangered species list, largely thanks to the incredible work of zoologists and conservationists in the country. Having been to the research facility in Chengdu myself, I had a lot of good feelings about this collection.
SPORT
I was interested and relieved to see that Reuters photographer Kai Oliver Pfaffenbach was awarded for his shot of Usain Bolt smiling on the way to winning the 2016 Olympic Games 100m final because, at the time, he received so little credit, at least in Australia, where native snapper Cameron Spencer had taken an almost identical shot for Getty Images. Down Under, headlines around Spencer's shot screamed at us asking things like: "Is this the best photo ever?" But such is life when you live in little Australia. In my opinion — and I said this at the time — Pfaffenbach nails the scene slightly better, capturing Bolt earlier in the race than Spencer did, showing his dominance, and also managed better focus on his legs, making him look more relaxed and easier than his chasers. But hey, we're splitting hairs now, and unlike any race involving Bolt, the difference between Pfaffenbach's shot and Spencer's is very close. Pfaffenbach won third place in Singles.
Last but not least, Giovanni Capriotti's wonderful series on Canadian rugby team Muddy York RFC is well worth a look. Awarded first prize in the Sport Stories category, it documents Toronto's first homosexual-friendly rugby team, and is a lovely story of inclusiveness in an environment — sport — where it is so often not the case, particularly in regard to homosexual men. "The Muddy York team unconsciously started the process of describing and deconstructing the idea of performance within masculinity," World Press Photo states on its website, and that is a beautiful thing.